For Sellers
Personal Representation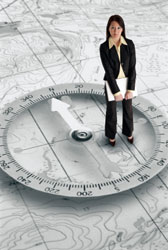 Selling a business is an important financial decision that requires a professional, and qualified, business broker to help maximize your economic goals.
From our initial evaluation, Compass First positions your business for the best potential return on your investment, in the least amount of time.
Our three-stage approach simplifies the selling process, allowing you more time to focus on the important aspects of day-to-day operations. From contract to closing, we assist you every step of the way.
Contact us today to explore our services, and for a free evaluation of your business.
The Selling Process
Phase One: Business Review and Valuation
Determine Condition of Equipment and Hard Asset Value
Review Company Stability and Financial History
Identify Seller Discretionary Earnings
Examine Lease Documents and Relation to Market Value
Analyze Local Competition and Market Share
Relate Findings to Comparable Sales
Phase Two: From Marketing to Contract
Workup Primary Buyer Profile and Key Prospects
Develop a Targeted Marketing Campaign for Seller Approval
Launch Advertising by Internet, Phone, Fliers and Direct Mail
Maintain Confidentiality
Require Non-Disclosure Agreements from all Prospects
Presentation to Pre-Qualified Buyers
Modify Marketing Approach, if Needed
Facilitate Negotiations and Present Acceptable Offers
Phase Three: Closing the Deal
Execute Purchase Agreement
Submit Initial Deposit and Open Escrow
Coordinate Due Diligence Timelines and Process
Assist Buyer with Financing Sources
Confirm Lease Assignment to Buyer
Expedite Permit Approvals through Government Agencies
Remove Applicable Contingencies
Commence Buyer Training
Prepare Business for Management Transition
Close Escrow and Disburse Funds
For a partial list of transactions, please click here.